I think most food lovers know the best way to a person's heart is through their stomach. There's just something about homemade food that bundles comforting love into a delicious package. The hun buns and I decided on our first Valentine's Day that neither one of us wanted to deal with the expensive and crowded dinners out at restaurants who only serve "special" menus filled with things we didn't even want to pay regular price for. Mmmm over-cooked steak and dry chocolate cake for me? You shouldn't have. No really. Should. Not. Have.
Instead, we stay in and enjoy some time in the kitchen together cooking up a great dinner and dessert that both of us will love and goes perfectly with a marathon of Forensic Files. Nothing says love like watching yet another episode where an unhappy couple chooses homicide to solve their marital problems. Have these people never heard of divorce attorneys?
As someone who loves to cook, I get a great amount of joy from cooking with totes adorbs kitchen accessories. I mean who wants to whip up some breakfast with a plain old metal whisk when you could be doing so with a pink silicone coated one? Not me. So today, dear reader, I want to share with you my top picks for excessively pink and red, completely squee-worthy, insanely adorable kitchen accessories that are sure to inject your cooking with extra love.
First off, can we please talk about the offerings from Le Creuset's Valentine's Day shop? I picked up a pair of these petite cocottes for myself in Hibiscus Pink and am using them as my salt and pepper cellars. Kiwi (discontinued, available at outlets) and Palm are my usual colors and luckily for me pink and red look great as accent colors in my collection.
Heart shaped cocottes not your thing? Perhaps a mixing bowl or two will get you into that Valentine's Day spirit.
Red and white melamine bowls by Anchor Hocking. Hearts mixing bowl by Mason Cash. 2-qt batter bowl in Cherry by Le Creuset.
If you're going to pull out the big guns (and you totally should), go ahead and pick up some perfectly pastel or richly red kitchen appliances. I own this pink KitchenAid hand mixer and it is to die for in both color and usability. I reach for it when I'm whipping up a cake or brownie mix, making quick homemade whipped cream, or to get those eggs nice and fluffy before you throw them in a hot pan for the best scrambled eggs ever. So many uses while being so 1950's. It also comes in a great cranberry, red, and watermelon in addition to many non-Valentine's Day themed colors.
Lord almighty, will you look at this Bordeaux KitchenAid mixer. I don't even know how you use something so beautiful. I own my grandmother's white KitchenAid from the 1970's which will die approximately never so someone else will have to buy this and use it for me. Send pictures.
Because you can't have enough kitchen towels. Ever.
Sit. Stay. Love. towels by Sonoma. Pink stripe tea towels by Liliane Collection. Heart towel by Williams Sonoma.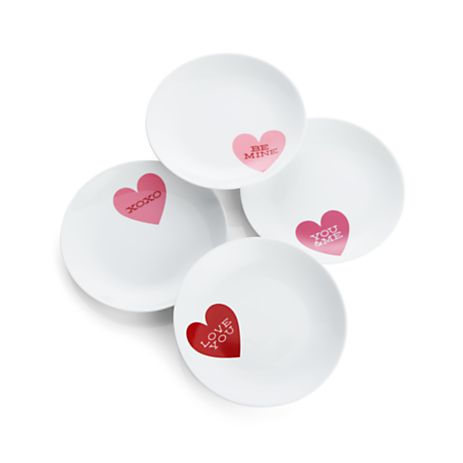 There are even some really cute Valentine's Day themed dinnerware sets outs there. At first, this seemed slightly ridiculous to me but then I realized plenty of people have themed sets for Christmas and Thanksgiving. Plus I think these could be easily brought out for birthdays or anniversaries or even something like an engagement or baby shower. I'm a big fan of showing the love all year. Or do the practical thing and just go with a solid red or pink which will also look great as we transition into spring.
Set of four Valentine heart plates by Crate and Barrel. Tatiana 12-piece dinnerware set in red by David Tutera. Valentine's themed dinnerware by Williams Sonoma.
If, like the hun buns and I, you are looking for a fun food-related activity to do together I have some great suggestions for you. Valentine's Day is on a Sunday this year and what better way to gaze deeply into each other's eyes than doing so over some buttery, rich, delicious waffles. I bought a waffle maker a few years ago and have been surprised at how often we actually use it. Waffles have become our go-to weekend breakfast and last ditch effort when we don't feel like making dinner on a weeknight. Get yourself a good waffle mix or make your own and you're all set. This heart shaped waffle maker is exactly like the one my parent's had when I was a kid.
Or, you could really test the strength of your relationship and make some fresh pasta together. If you have a Kitchenaid mixer already, go with the KitchenAid pasta roller and cutter attachments. Otherwise, the classic pasta maker machine is for you.
Finally, a selection of cookbooks, sure to stir a warm glowing warming glow in that heart of yours.
Soul Food Love by Alice Randall & Caroline Randall Williams. My Paris Kitchen by David Liebovitz. The Complete Cooking for Two Cookbook by America's Test Kitchen. Fifty Shades of Chicken by FL Fowler.
So tell me, what is the worst Valentine's Day gift you've ever received (or given?!!)? Inquiring minds want to know. Do you usually stay in or go out? Would receiving kitchen stuff be a total no-no in your book akin to unwrapping a vacuum cleaner? Are you a diamonds or GTFO type of person?
Disclaimer-Some of the links on this site are affiliate links. This means that if you purchase an item utilizing one of these links, I may receive a small commission from the sale. This does not increase your cost in any way and is a simple way to help offset the cost of owning and maintaining this blog. Your support is appreciated. If you have any concerns or questions about my use of affiliate links, please contact me!